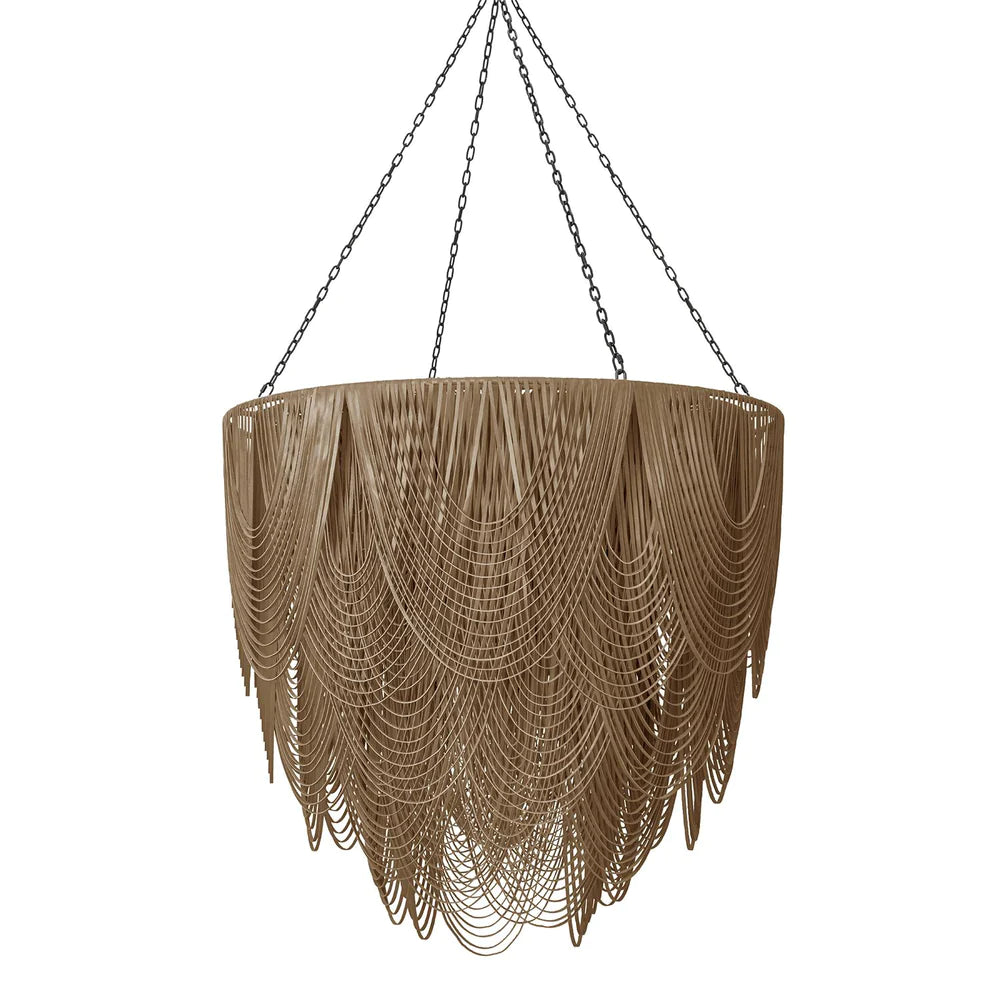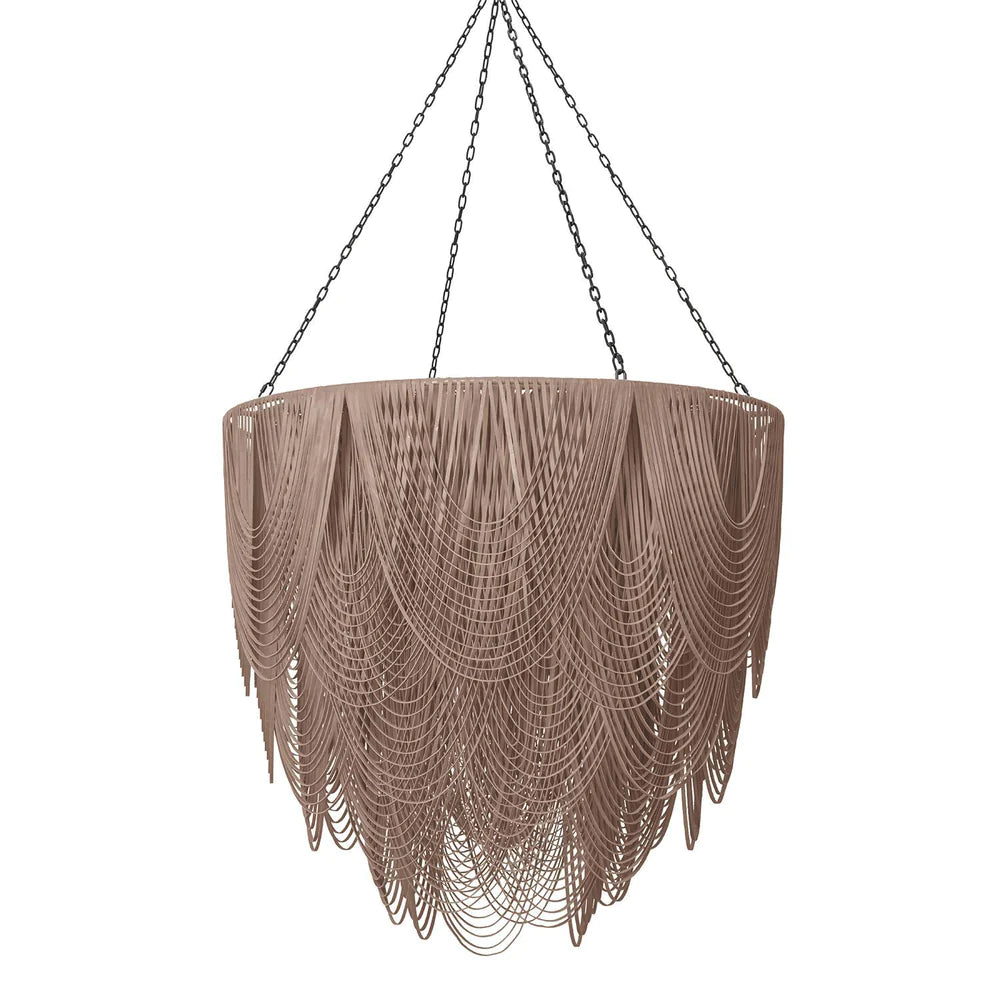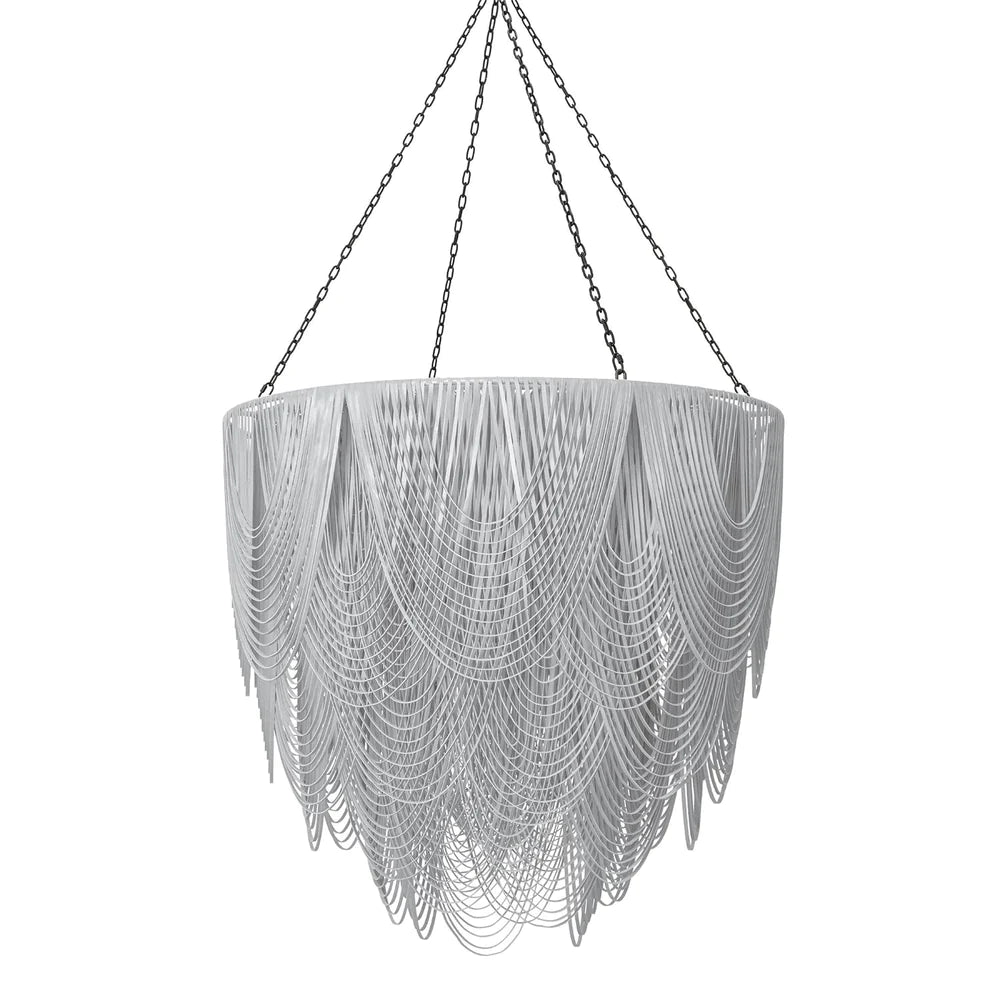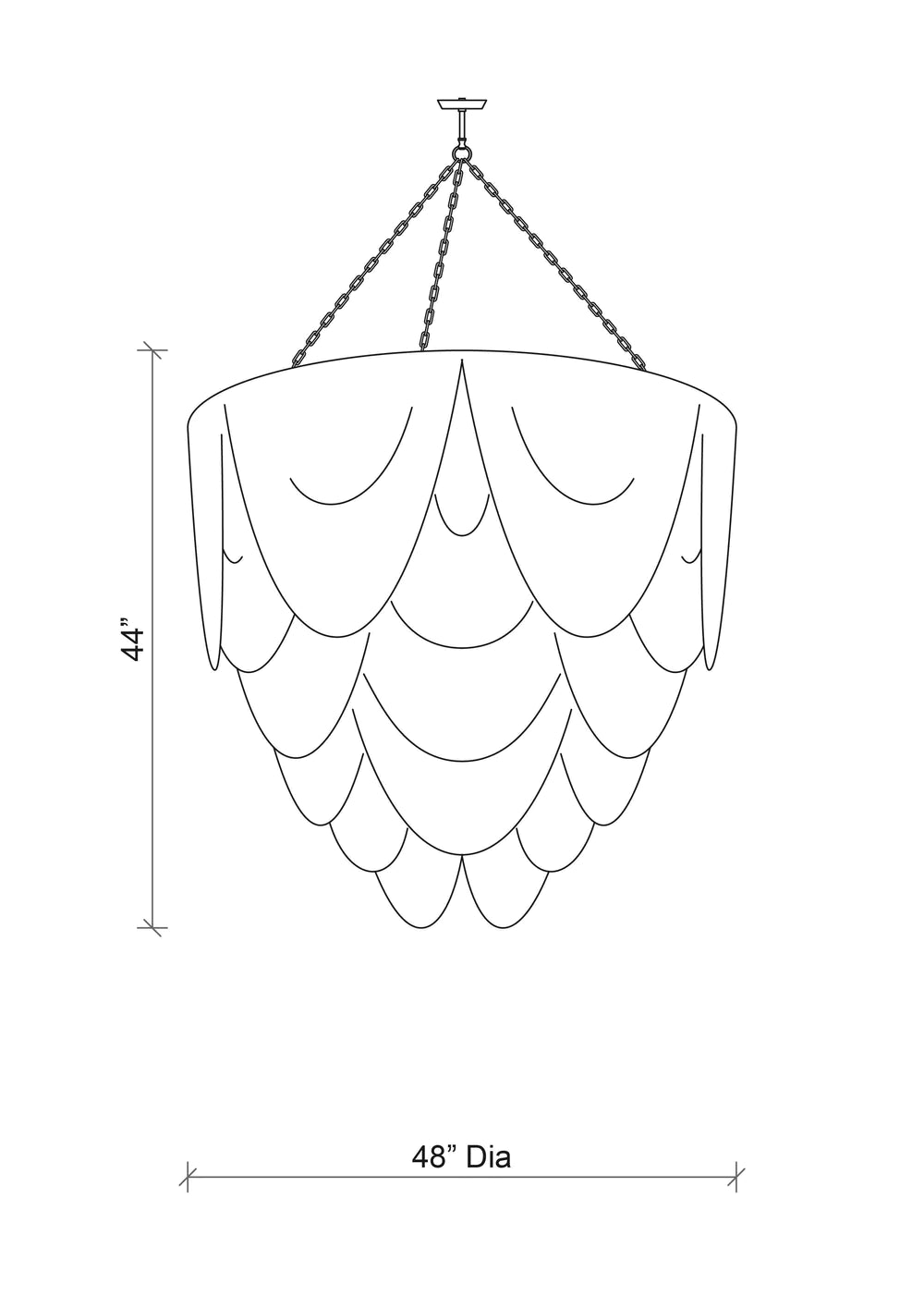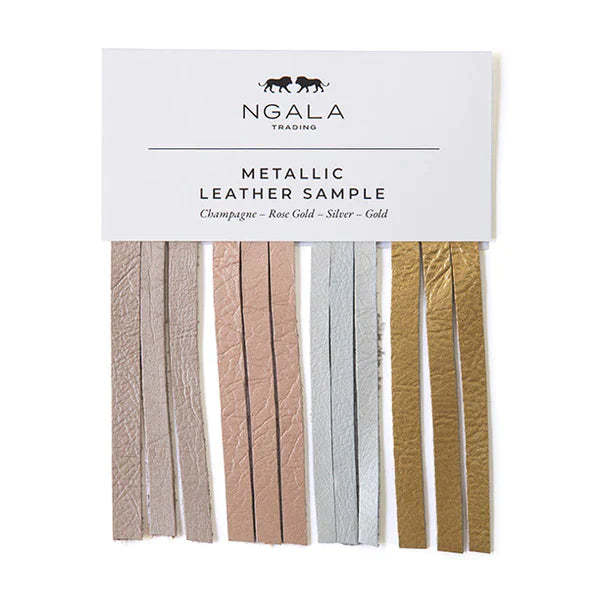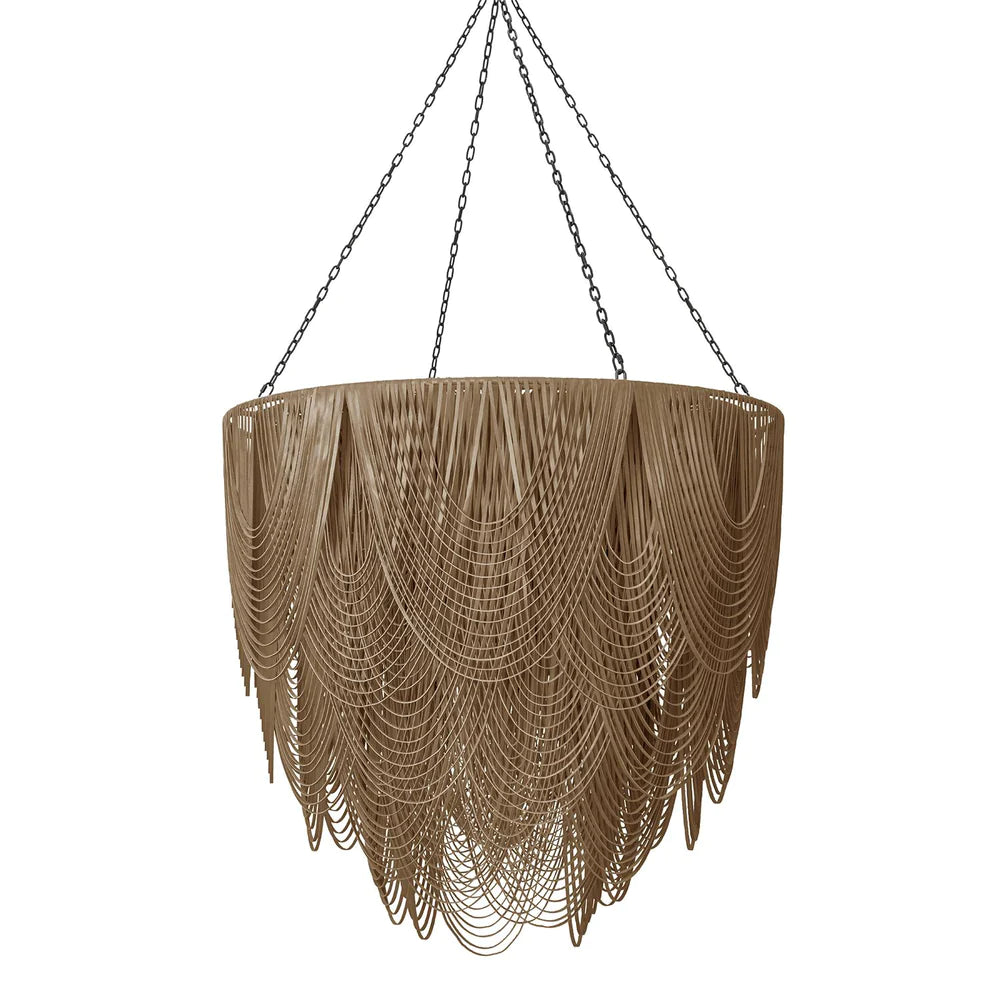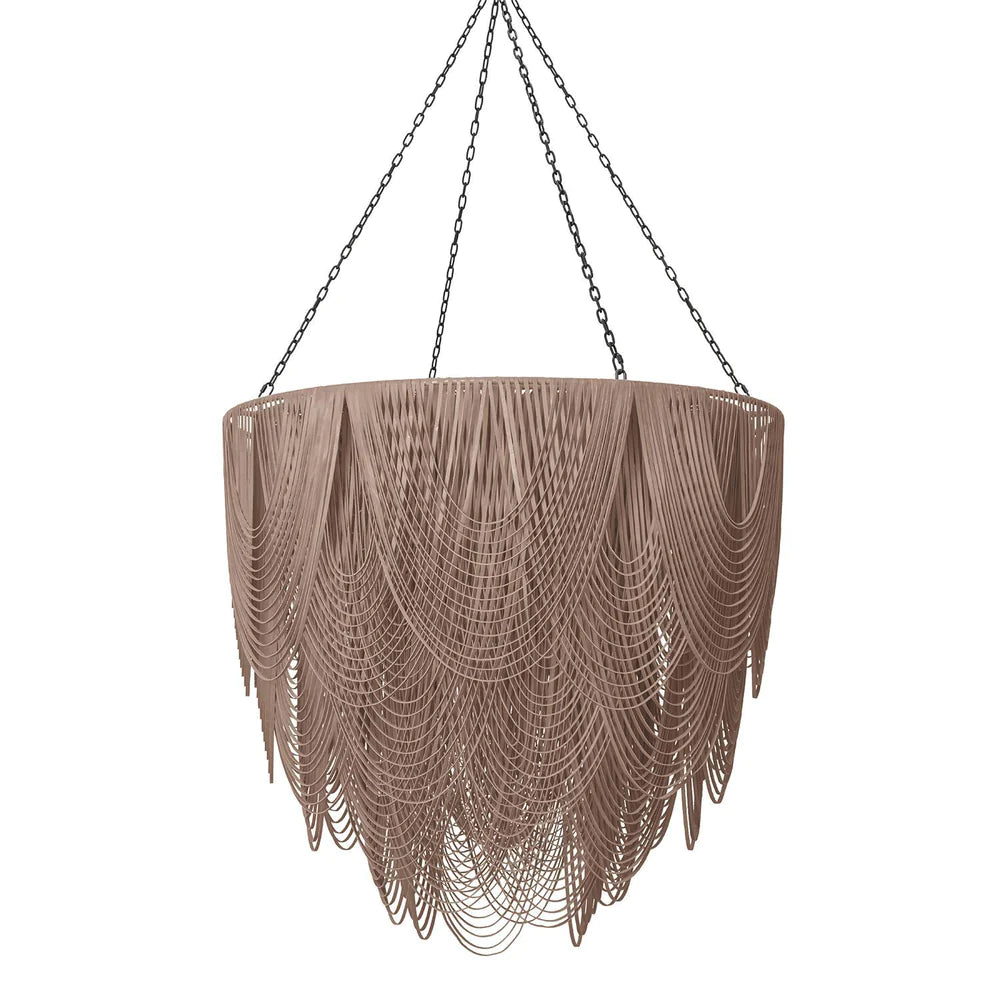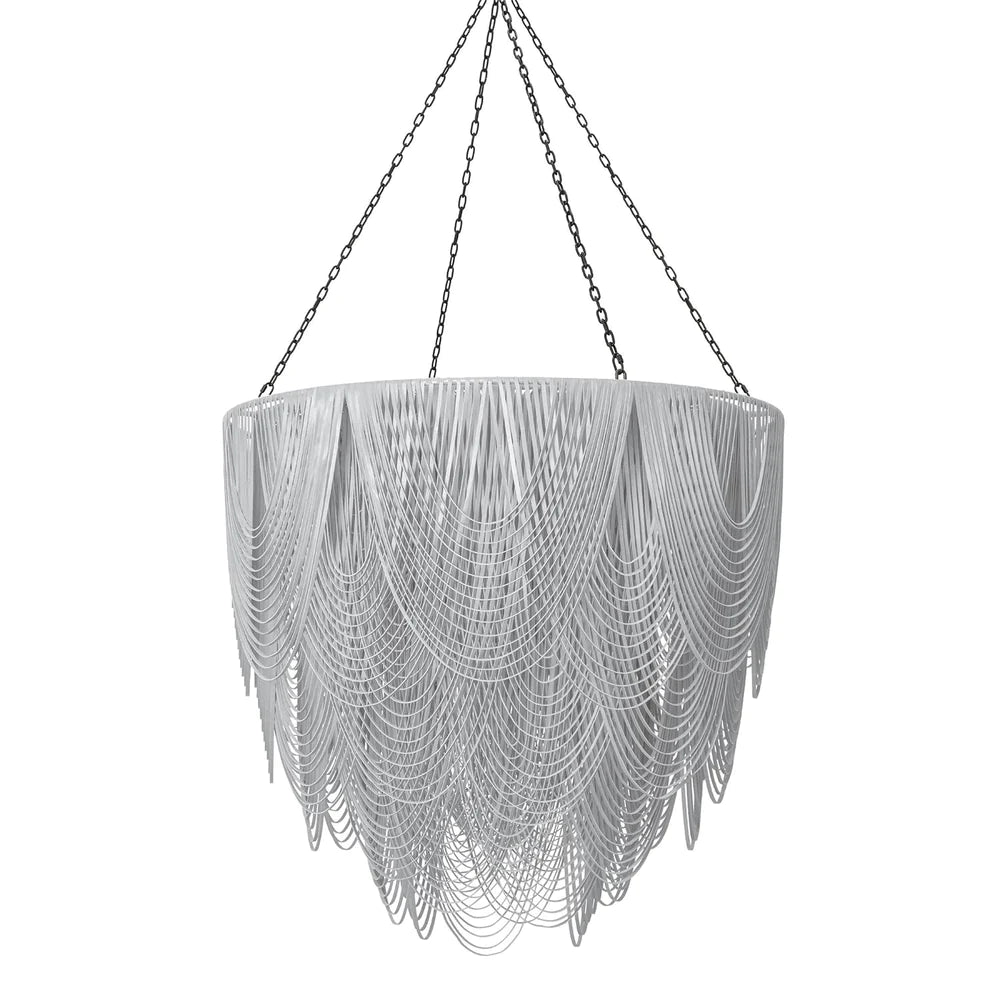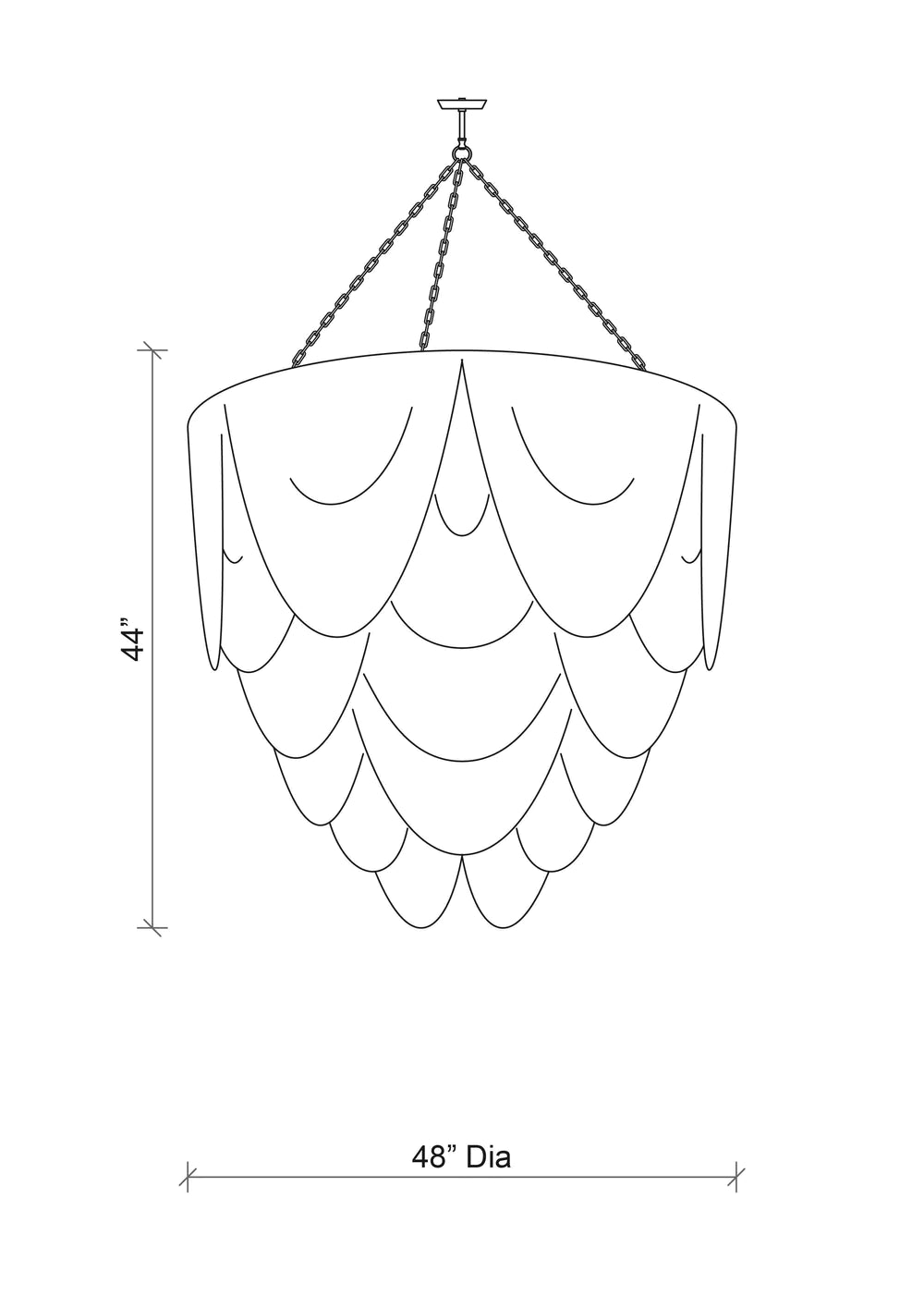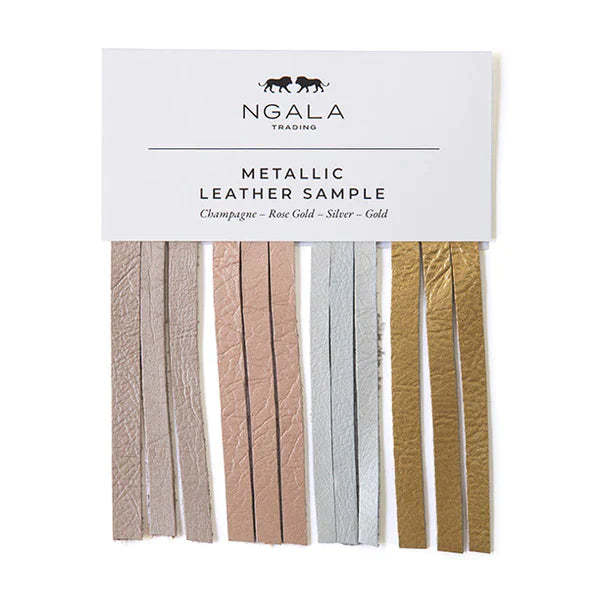 Ngala Trading Co
Whisper Chandelier Metallic Leather XXL
DIMENSIONS
MATERIAL
FINISH
The Whisper Chandelier in Metallic Leather is an exquisite lighting fixture that seamlessly blends unexpected materials with innovative design. Here are the details for this remarkable chandelier:
Material and Design: The Whisper Chandelier is a true masterpiece, handcrafted with swags of leather that are intricately layered to form graceful arcs. The result is a visually stunning yet organic appearance that sets it apart from traditional chandeliers. The chandelier is designed to emit ambient light from within, creating a soft and inviting glow.

Safety Certification: This hard-wired lighting fixture is UL-listed for dry locations, ensuring it meets stringent safety and quality standards. However, please note that it is not suitable for outdoor use.

Chain and Cord: Each pendant is supplied with 6 feet of chain and cord, providing you with the flexibility to adjust the chandelier's height to suit your specific space and design preferences.

Dimensions: With a substantial 48-inch diameter and a height of 44 inches, this chandelier makes for a captivating and attention-grabbing centerpiece in any room.

Color: The Metallic Leather option offers a choice of captivating and glamorous colors, including Champagne, Rose Gold, Silver, and Gold. You can choose the color that best complements your interior design, adding a touch of luxury and sophistication.

Materials: This chandelier is meticulously handcrafted using tanned bovine leather, known for its durability and inherent beauty. The frame of the chandelier is constructed from powder-coated steel, providing both strength and aesthetic appeal.

Bulbs: The chandelier is designed to accommodate 11 E12 candelabra bulbs, with five bulbs surrounding the chandelier and six forming the middle branch. Each bulb can have a maximum capacity of 7 watts for LED bulbs. Please note that bulbs are not included with the chandelier.

Manufacturer: The Whisper Chandelier is created by High Thorn, a distinguished manufacturer known for its unwavering commitment to quality and craftsmanship.

Origin: This exquisite chandelier is proudly made in Johannesburg, South Africa, reflecting the brand's dedication to producing high-quality and distinctive lighting fixtures.

Made-to-Order: The chandelier is made-to-order, ensuring it is customized to your exact specifications and preferences. Consequently, please allow 12-14 weeks for the crafting process.
The Metallic Leather Whisper Chandelier is more than just a lighting fixture; it's a work of art that has the power to transform the ambiance and aesthetics of your living space. Its innovative use of leather and its graceful design create a focal point that captures attention and admiration. With a choice of Metallic Leather colors that exude luxury and elegance, you can select the one that elevates your interior decor. Whether it graces a dining room, living room, or any other space, this chandelier is certain to make a bold statement and infuse your home with opulence and contemporary style.