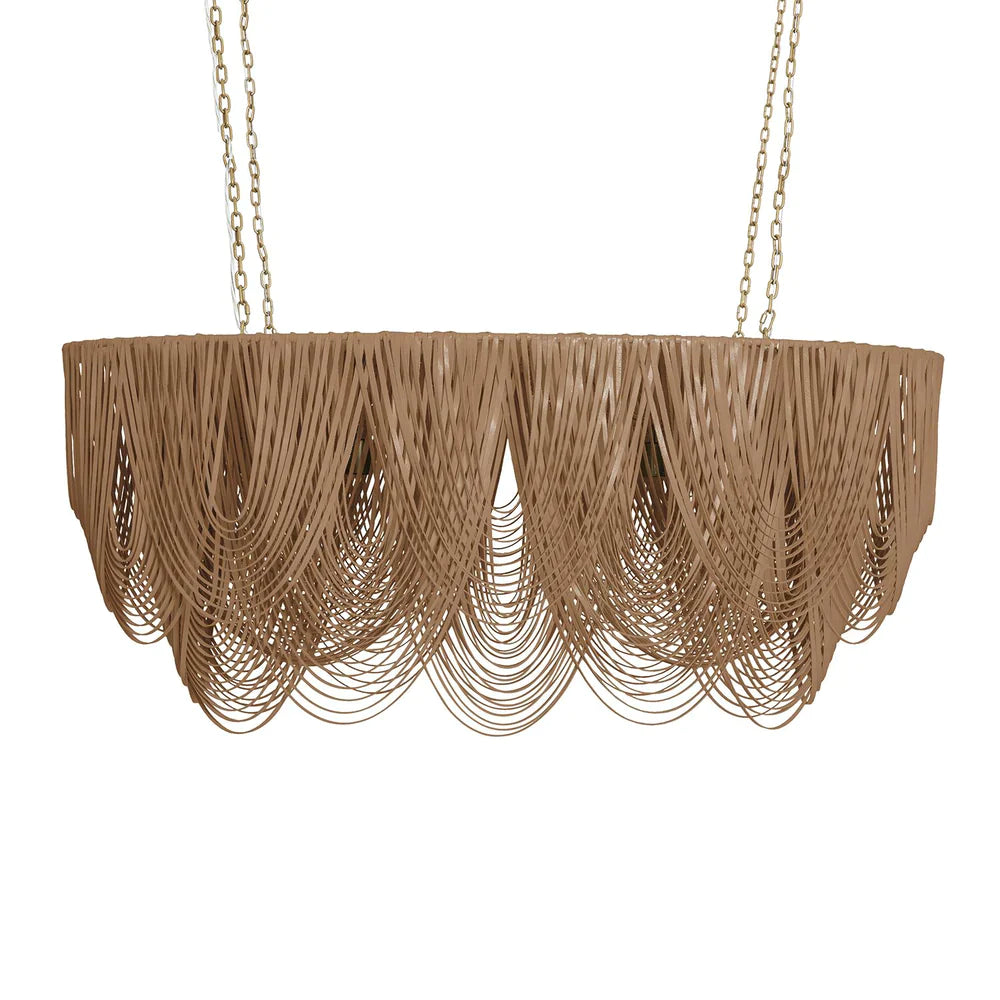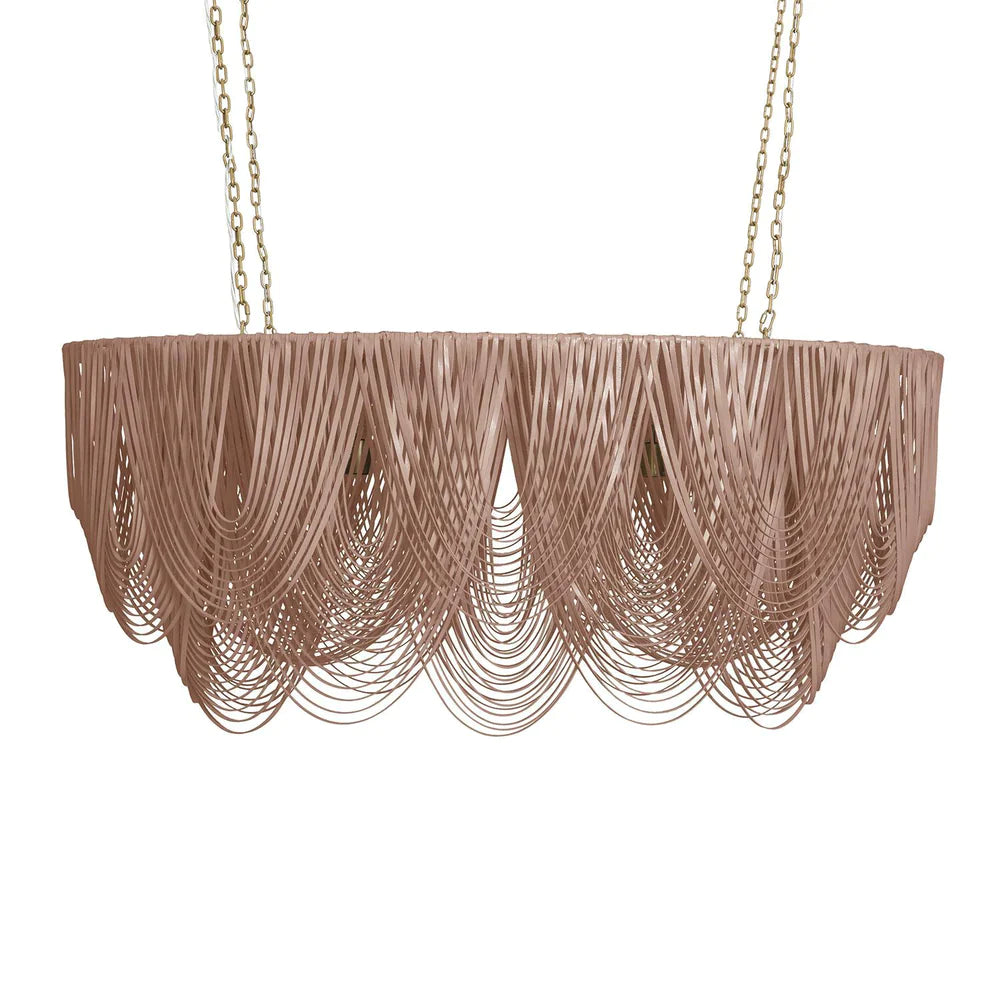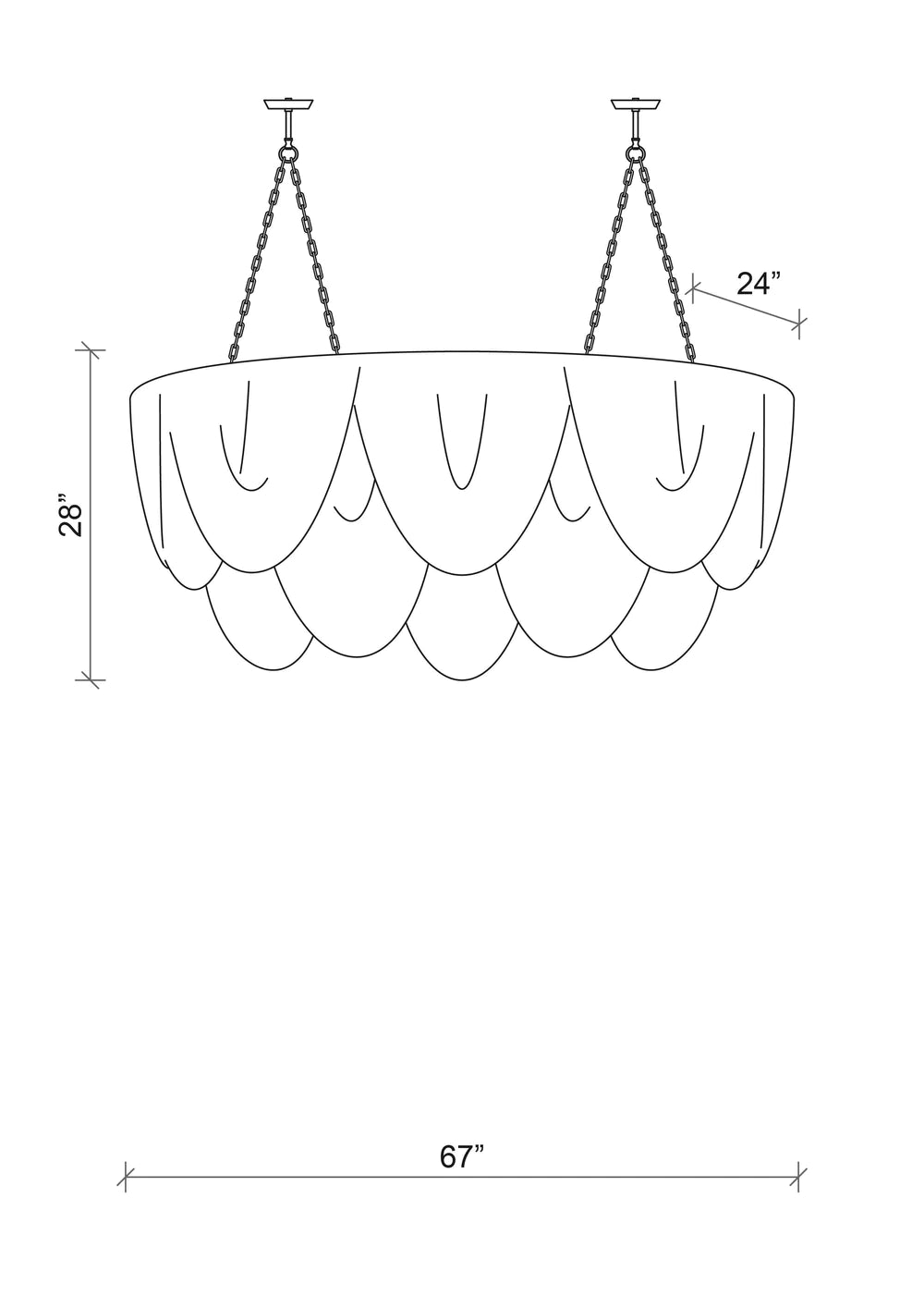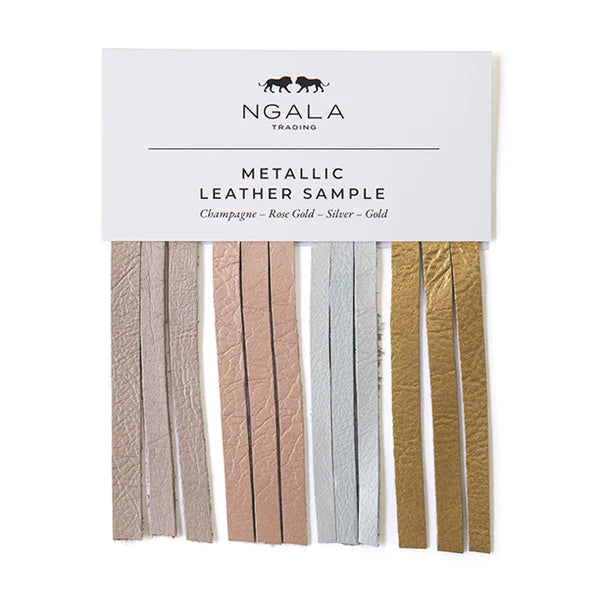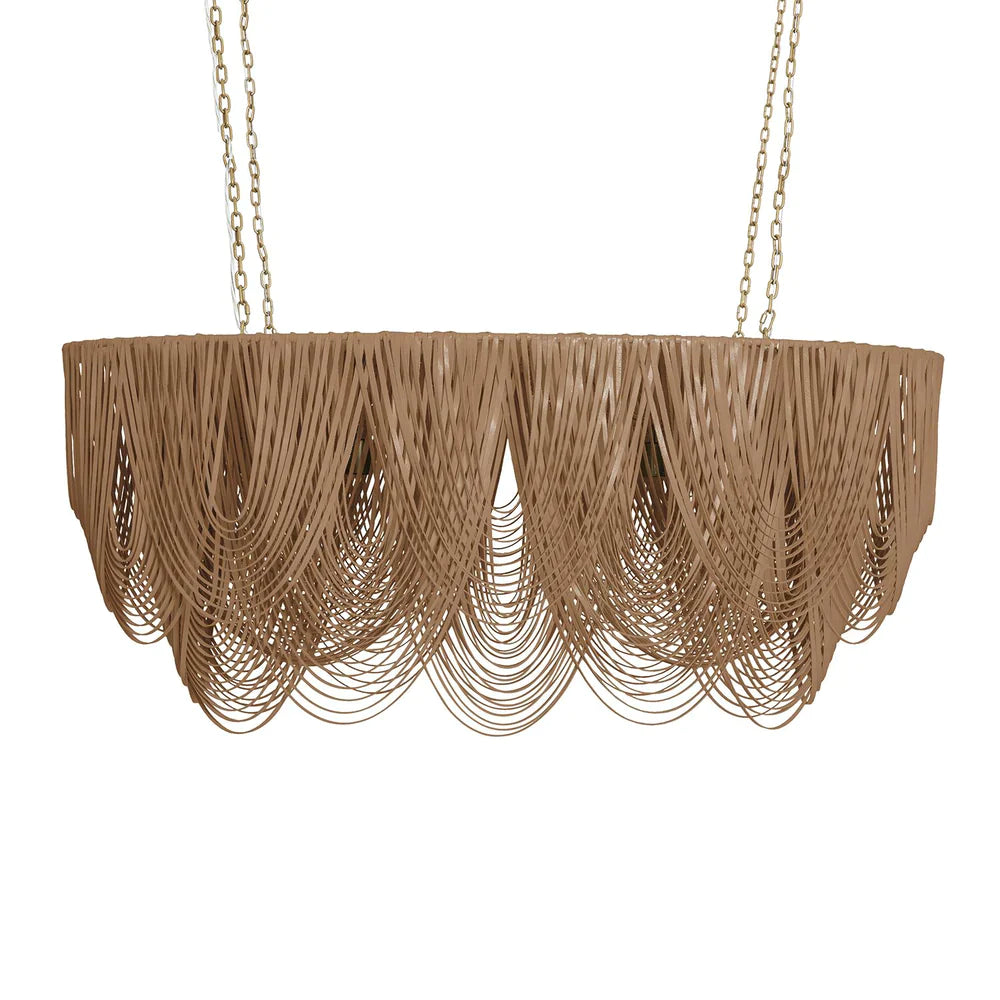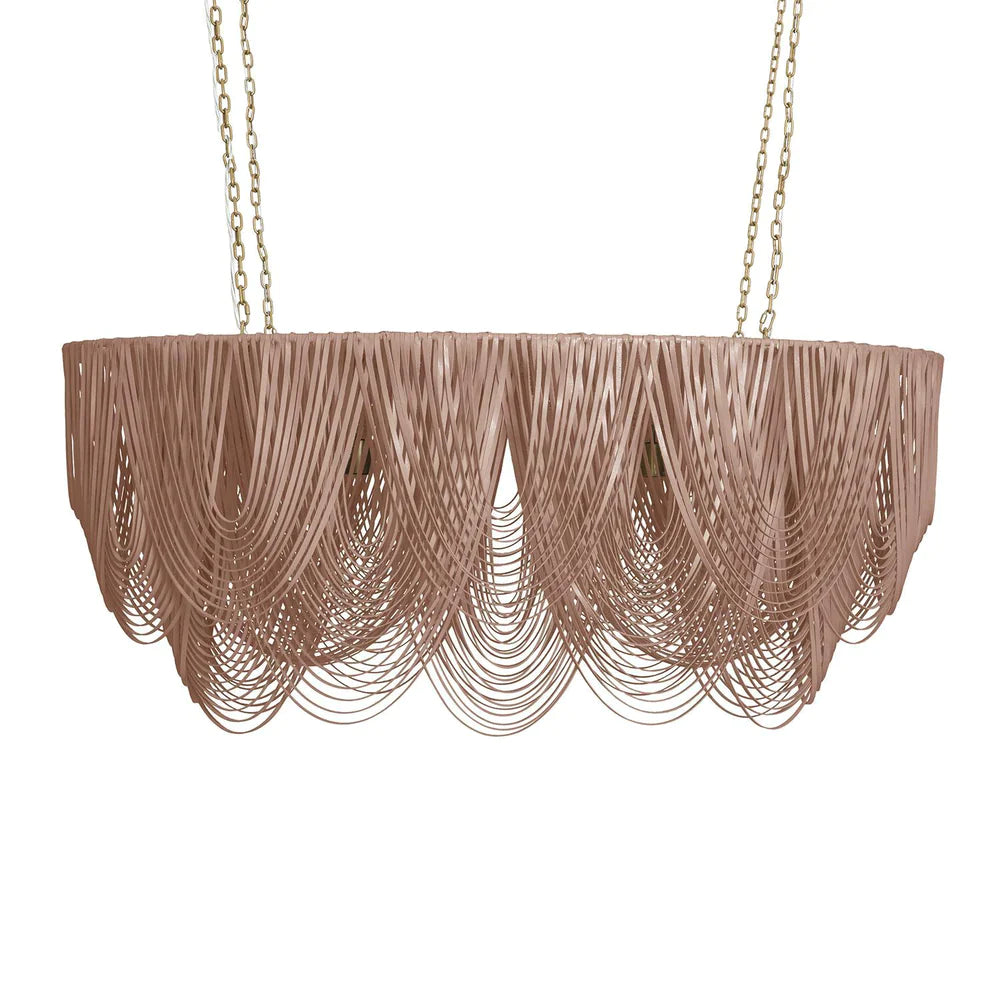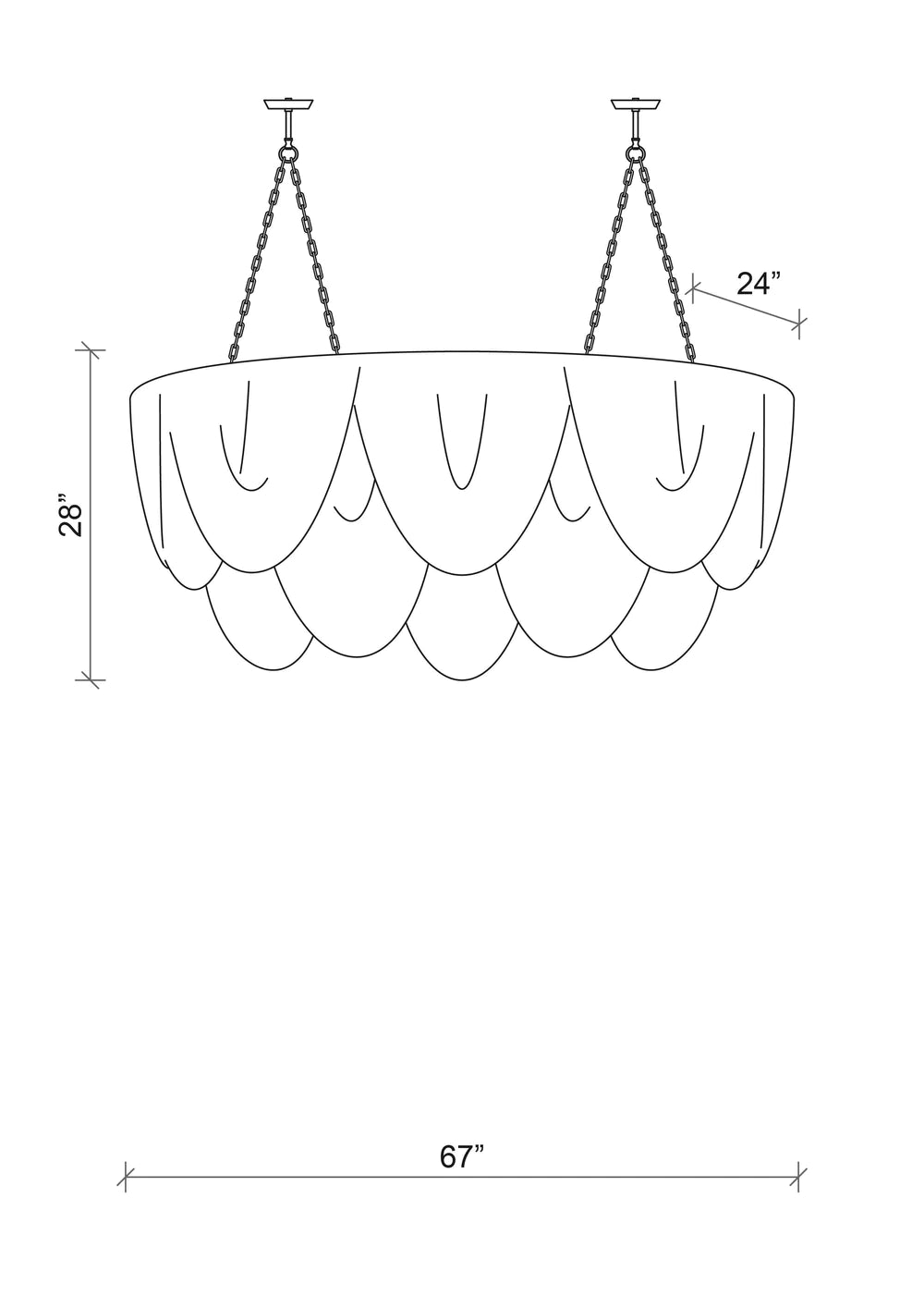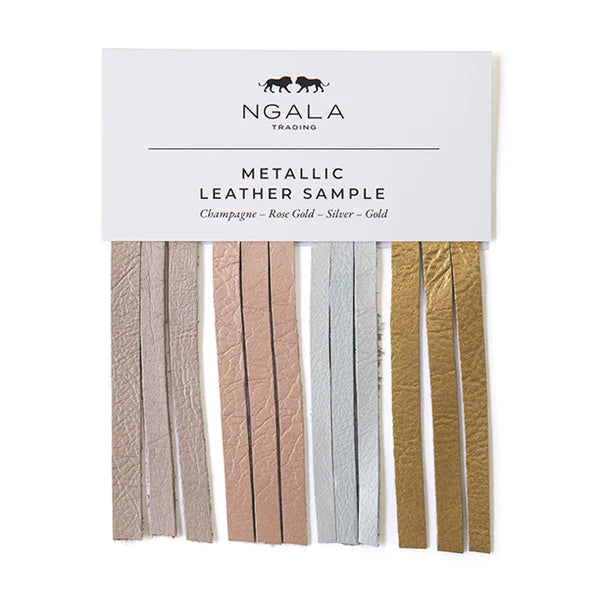 Ngala Trading Co
Whisper Chandelier Oval Metallic Leather Large
DIMENSIONS
MATERIAL
FINISH
The Metallic Leather Whisper Chandelier is an exquisite and unconventional lighting fixture designed to introduce a touch of luxury and uniqueness to your interior. Here are the essential details for this captivating chandelier:
Material and Design: The Whisper Chandelier boasts an extraordinary design, featuring swags of leather expertly layered in graceful arcs, resulting in a stunning and natural appearance. The chandelier is designed to provide ambient lighting, casting a soft and warm glow that creates a cozy atmosphere in your living space.

Safety Certification: All hard-wired lighting fixtures in this collection are UL-listed for dry locations, ensuring that they meet strict safety and quality standards. However, please be aware that this chandelier is not suitable for outdoor use.

Chain and Cord: Each pendant comes with 6 feet of chain and cord, offering flexibility in adjusting the installation height to suit your specific space and design preferences.

Dimensions: This chandelier is generously sized, with a width of 67 inches, a depth of 24 inches, and a height of 28 inches, making it a remarkable centerpiece in any room.

Color Options: The Metallic Leather Whisper Chandelier is available in a range of luxurious color options, including Champagne, Rose Gold, Silver, and Gold. These options allow you to select the color that best harmonizes with your interior design.

Materials: The chandelier is meticulously crafted using tanned bovine leather, renowned for its durability and natural beauty. The frame is constructed from powder-coated steel, offering both robustness and visual appeal.

Bulb: This chandelier is designed to accommodate five E26 bulbs, each with a 7W LED capacity. Please note that bulbs are not included with the chandelier.

Manufacturer: The Whisper Chandelier is created by High Thorn, a well-regarded manufacturer known for its commitment to quality and craftsmanship.

Origin: This remarkable chandelier is proudly made in Johannesburg, South Africa, reflecting the brand's dedication to producing high-quality and distinctive lighting fixtures.

Made-to-Order: The Metallic Leather color option is made-to-order, signifying that the chandelier will be custom-crafted for you. This level of customization guarantees that you receive the precise color and design that complements your interior decor. However, it's important to allow 12-14 weeks for the crafting process.
The Metallic Leather Whisper Chandelier is not just a lighting fixture; it's an artistic statement piece that can dramatically enhance the ambiance and aesthetics of your interior space. Its innovative use of leather and its elegant design make it a focal point, and the Metallic Leather color options offer the versatility to personalize it according to your interior design preferences. This chandelier is sure to add a touch of opulence and sophistication to your living space.