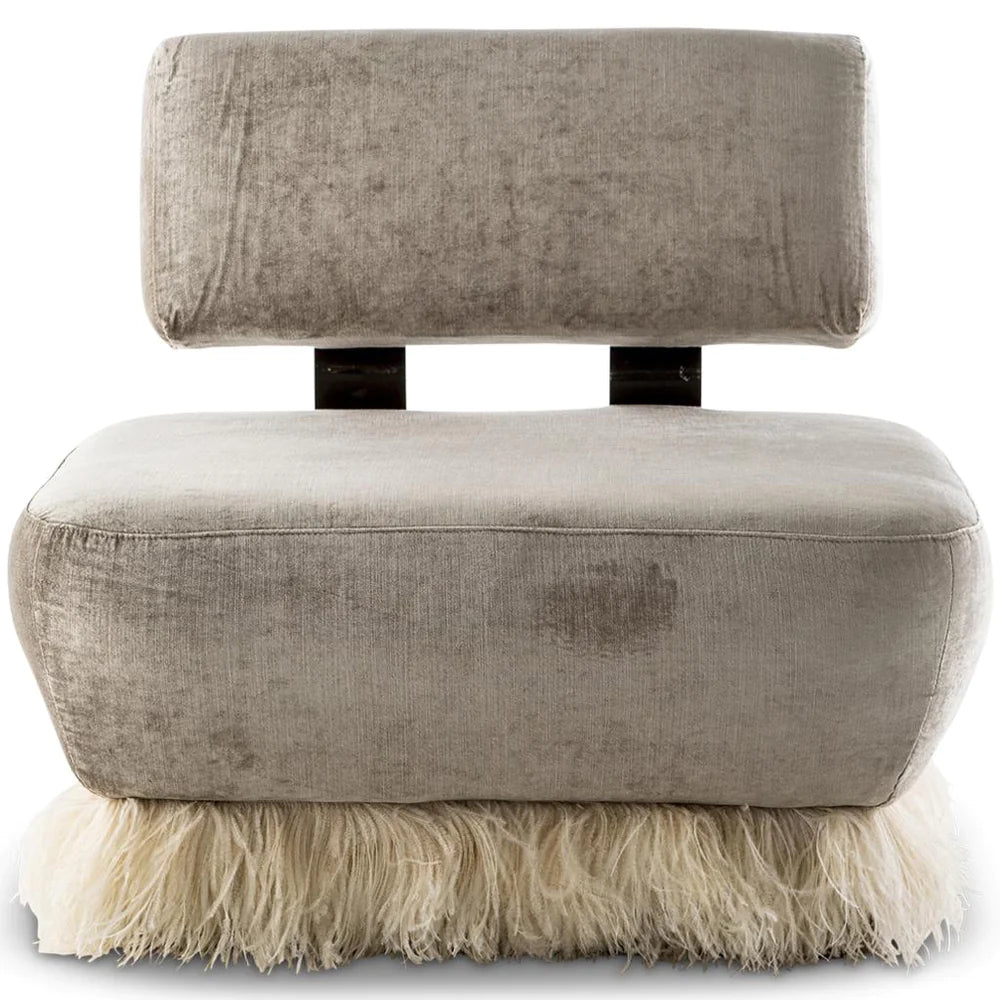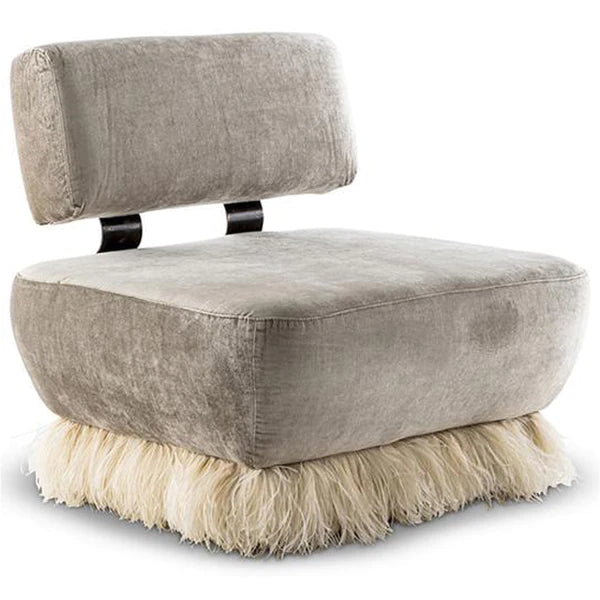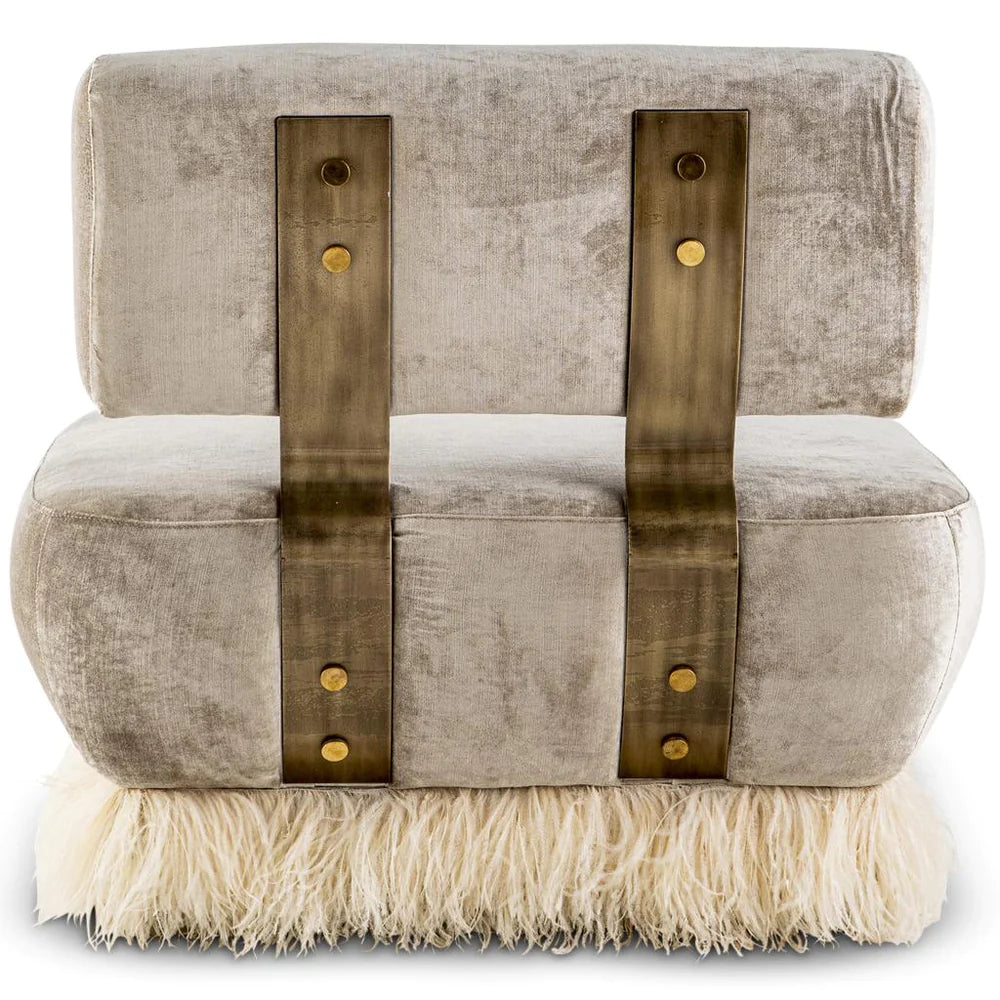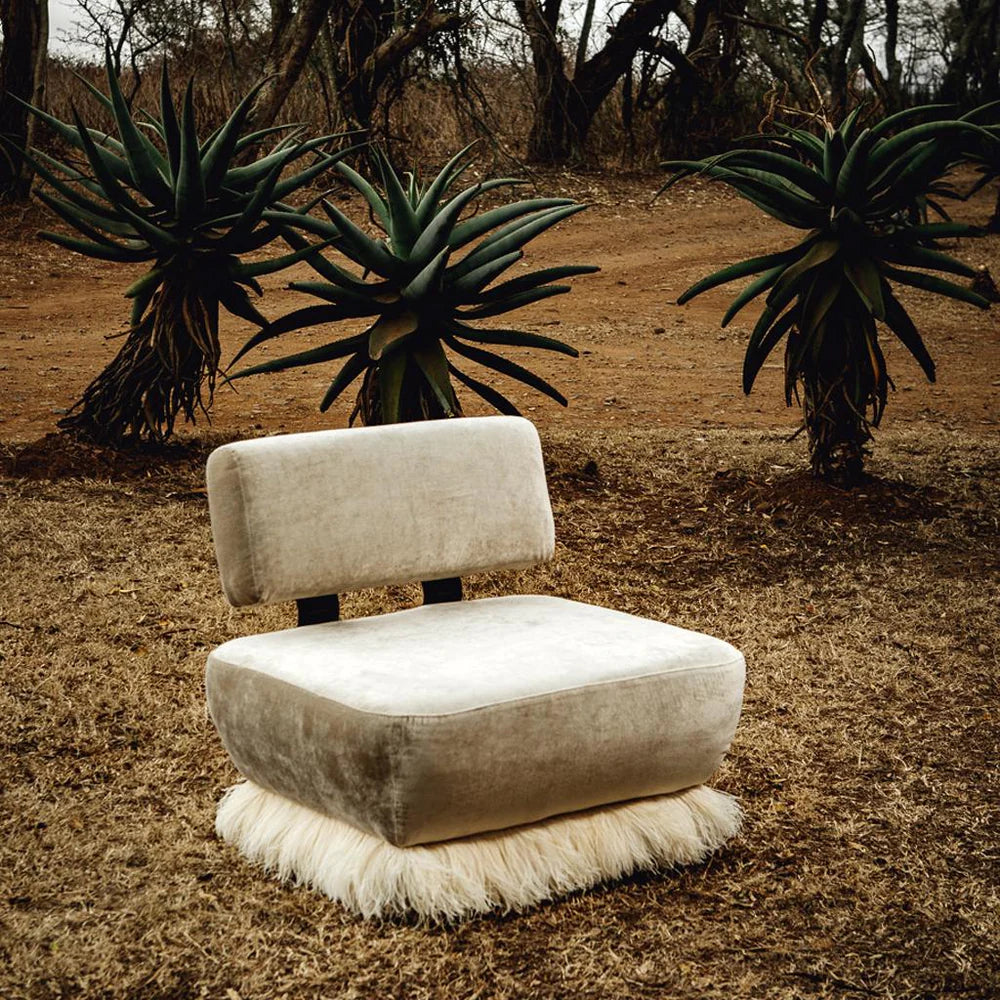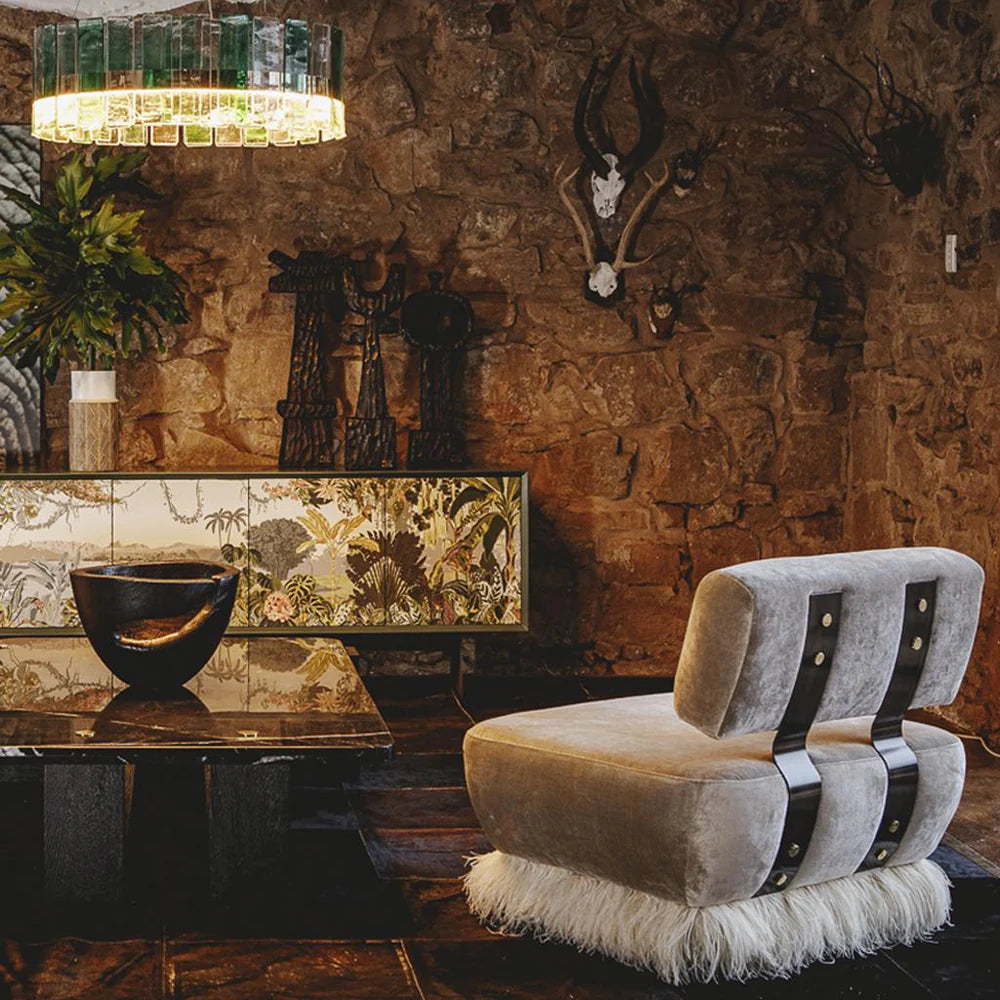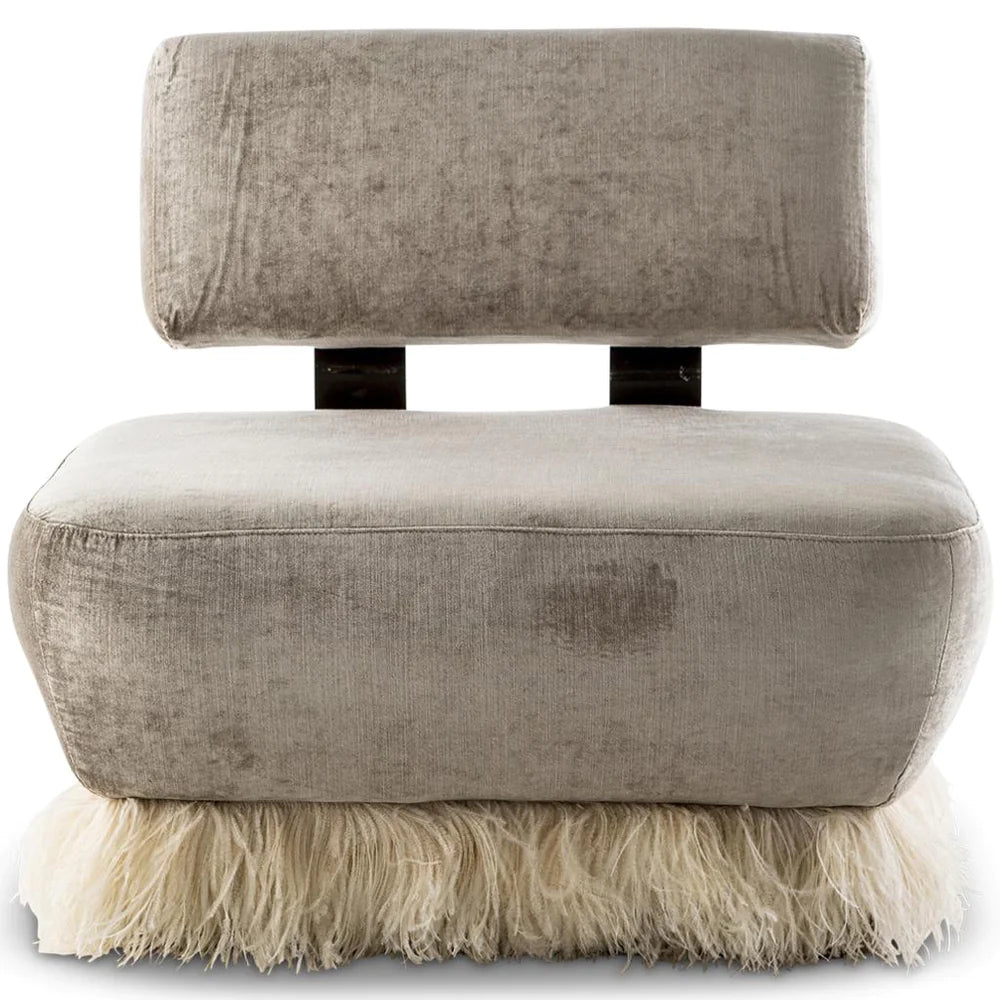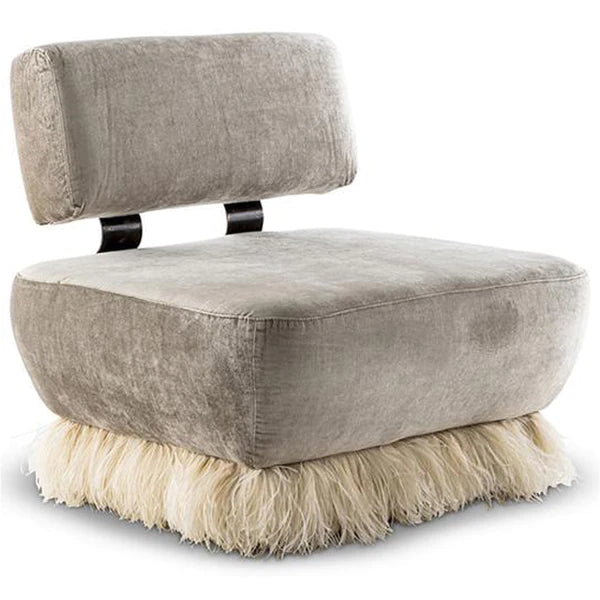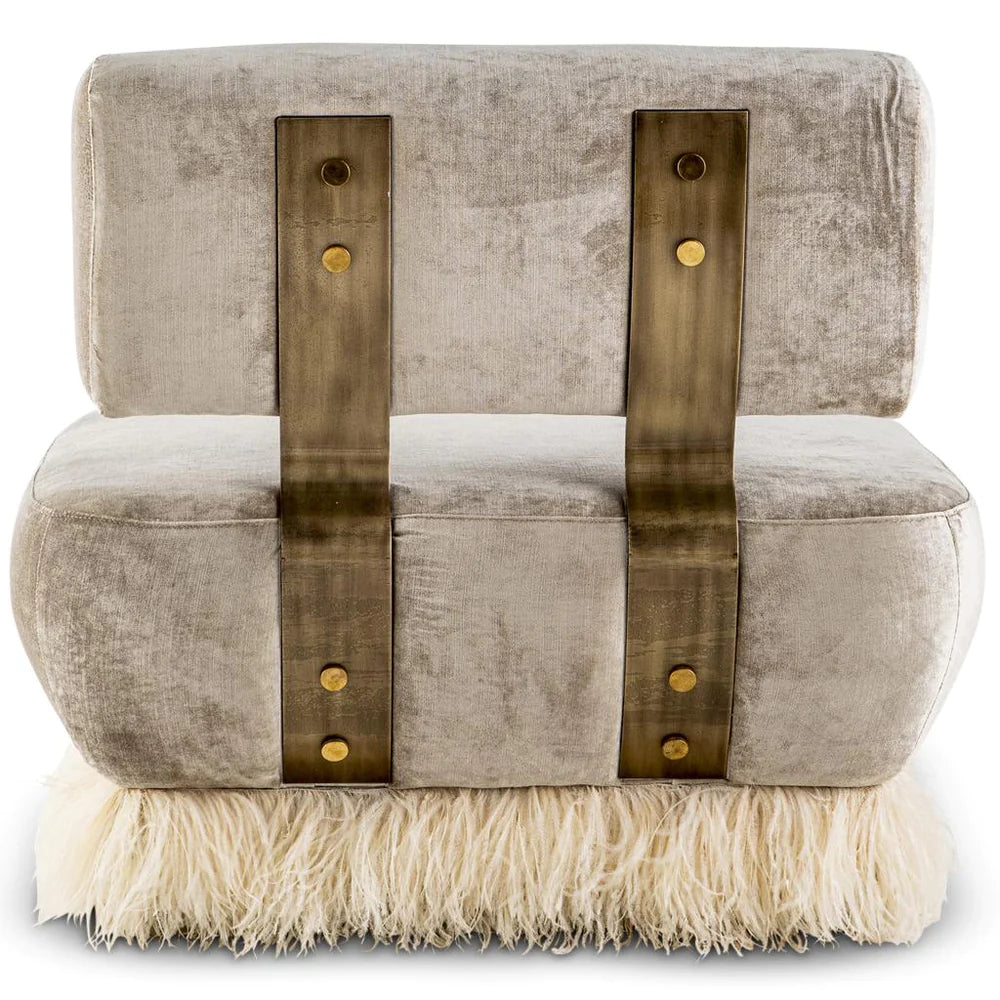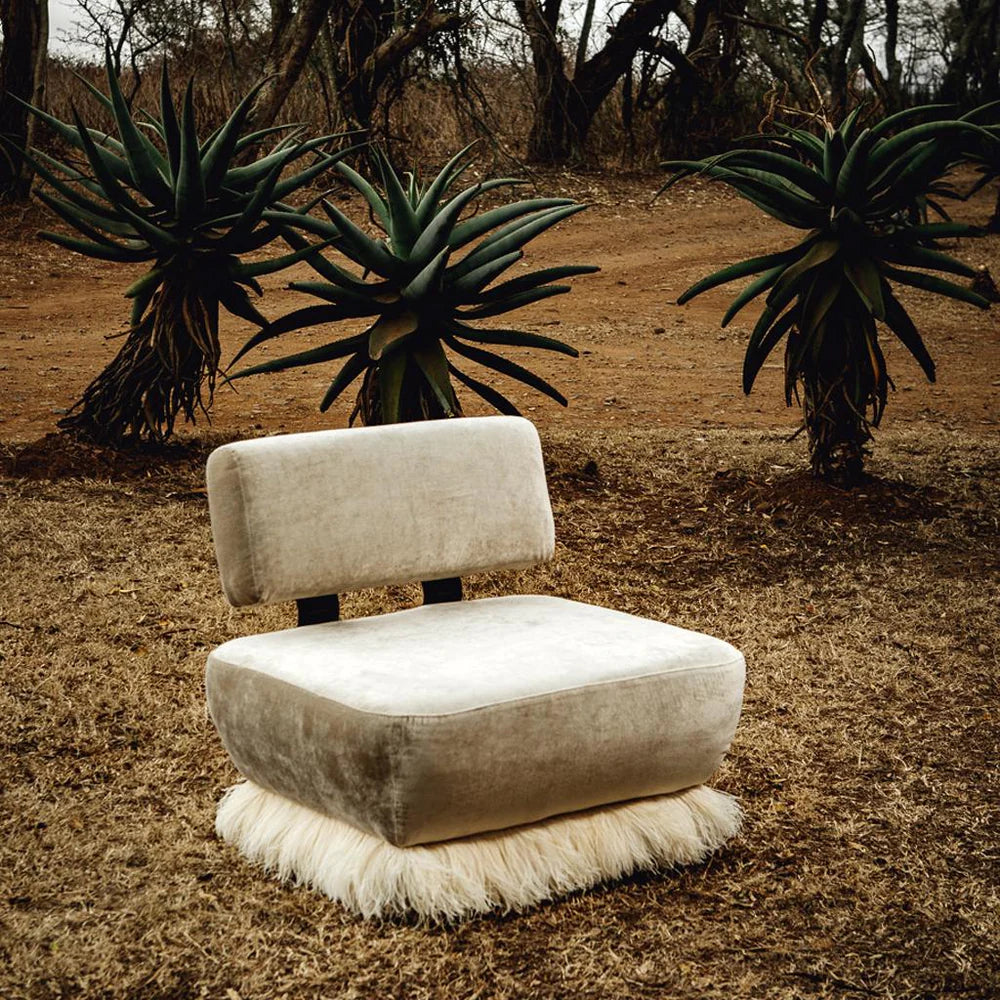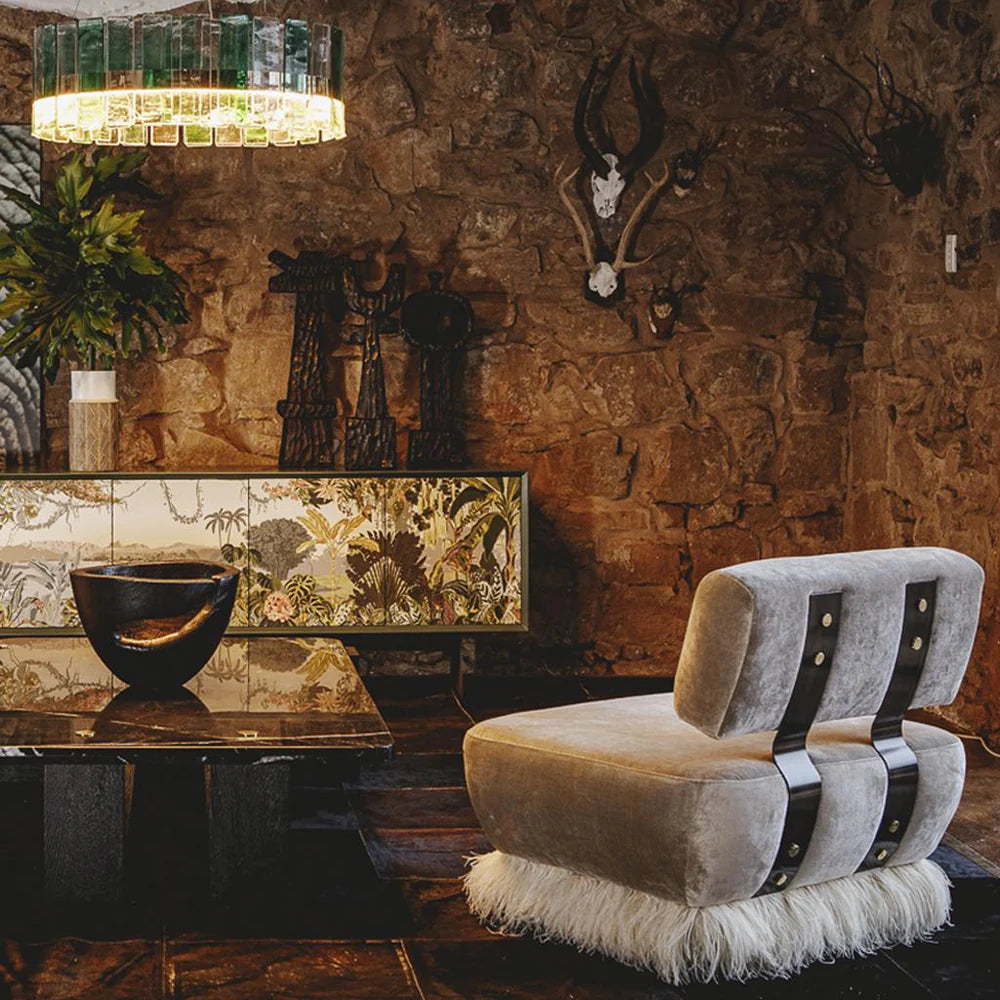 Ngala Trading Co
Ostrich Fluff Lounge Chair
DIMENSIONS
MATERIAL
FINISH
The Ostrich Fluff Lounge Chair is a luxurious and stylish lounging piece that combines comfort and elegance. Here are the details for this unique and eye-catching chair:
Comfort and Style: As its name suggests, the Ostrich Fluff Lounge Chair delivers a perfect blend of comfort and style. It's designed to provide a comfortable seating experience while also serving as a stylish and eye-catching piece of furniture.

Composition: This lounge chair is composed of two separate sections, both luxuriously upholstered in velvet. These sections are married together by bronzed steel brackets and solid brass pins. This combination of materials and craftsmanship gives the chair a distinctive and sophisticated look.

Feather Skirt Trim: What sets this chair apart is the genuine ostrich feather skirt trim that adds a bespoke and unique flair to the design. This feather trim not only enhances the chair's aesthetics but also adds a touch of luxury and sophistication to any living space.

Sampling: If you're interested in customizing the fabric and feather elements to match your interior decor, fabric and feather sampling are available upon request. This customization option allows you to choose materials that best suit your personal style.

Dimensions: The chair has a compact yet comfortable size, measuring 36.25 inches in width, 30 inches in depth, and 33.5 inches in height. Its dimensions make it a versatile piece that can fit well in various living spaces.

Manufacturer: The Ostrich Fluff Lounge Chair is crafted by EGG Designs, a manufacturer known for its dedication to producing unique and distinctive furniture pieces that light up interiors.

Origin: This elegant chair is proudly made in Durban, South Africa, showcasing the manufacturer's commitment to quality and craftsmanship.

Porcelain Fabric / Cream Ostrich Feathers - Stock Supported: The chair is available in a stock-supported configuration, featuring porcelain fabric and cream ostrich feathers. This means it is readily available for purchase and can be a quick addition to your living space.
The Ostrich Fluff Lounge Chair is more than just a piece of furniture; it's a work of art that adds luxury and charm to any room. With its elegant upholstery, bronzed steel and brass details, and the distinctive ostrich feather trim, it stands out as a unique and captivating piece that transforms your living space. Whether placed in a living room, bedroom, or any area where you want to make a statement, this lounge chair offers the perfect combination of comfort and style. It's a true conversation starter that reflects your appreciation for fine craftsmanship and exceptional design.